MOLINO T2
2 km from Molino Tejada and from the nearest village —a 20 minutes pleasant stroll—, is Molino T2. This old mill has become a country home with a renewed modern look, and a true getaway from the world.
The property is a celebration of the ancient Mill house foundations and the comfort of Modern luxuries. Decorated in a chic black and white palette, it co-habits and contrasts beautifully with the lush greenery of it's wild surroundings.
This house by the river has been architected to be an ideal family retreat. It is equipped with a master bedroom overlooking the Ebro river, a secondary bedroom that sleeps four people, a family kitchen, a large bathroom and two fireplaces (indoor and outdoor).
The interior has a peaceful and intimate atmosphere with everything from a romantic canopy bed and contemporary art, to the essential writing desk, for the poet in you.
The outdoor living spaces have the charm of a faraway retreat, with two private islands, an outdoor fireplace, fountains, and the endless magic of the flowing river.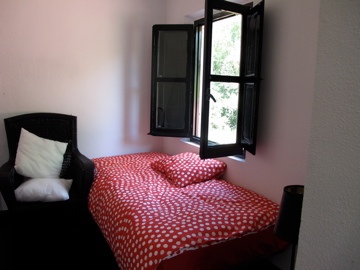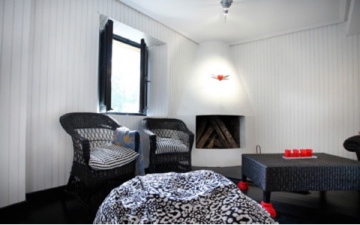 ERNESTHEMINGWAY
Molino T2 is a family home that sleeps 6 people. One master bedroom with a fireplace and 4 single beds divided in 2 rooms. One full bathroom, with shower and bath. One fully equipped kitchen. Living room and separate large dining room for 10 guests.
July 1 - September 15 : $ 290
September 16 - June 31 : $ 175